• A little thing I love about Mozgov's game: He's really good at disguising the direction of his pick until the very last moment, and even flipping directions in an instant. He tricked Iguodala a few times on LeBron pick-and-rolls; Iguodala lunged one way, thinking Mozgov's screen was going to send James in that direction, and fell hopelessly behind when Mozgov set that sucker the other way.
Reminder: Mozgov is under contract for just $4.95 million next season. Cavs GM David Griffin did a sensational job rebuilding this team on the fly during the season.
• Kerr seems to have concluded that Iguodala is his only workable option on LeBron. When he saw the Cavs insert LeBron early in the second quarter while Iguodala was still on the bench, Kerr immediately burned a 20-second timeout to get Iguodala back in. Kerr confirmed to me afterward that he used the timeout specifically for that purpose, rather than risk even one possession with Barnes on LeBron.
http://grantland.com/the-triangle/nba-finals-game-4-attack-of-the-small-ball-warriors/
http://bleacherreport.com/articles/2493920-steve-kerrs-nba-finals-lineup-gamble-a-season-long-bet-that-paid-off-big
Game 3.
Emergence of Matthew Dellavedova Has Made Cavs' Nightmare a Potential Fantasy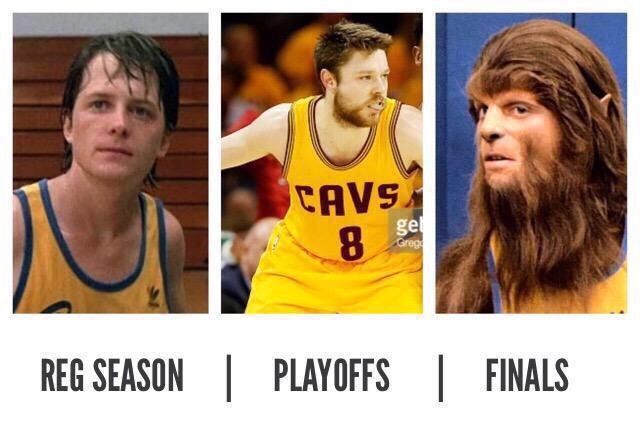 http://bleacherreport.com/articles/2492991-emergence-of-matthew-dellavedova-has-made-cavs-nightmare-a-potential-fantasy